Orthodontics in Grand Island, NE
Island View Dental has provided comprehensive dental care, including orthodontics, to the Grand Island community for more than 40 years! We make orthodontic treatment easy and convenient as a one-stop office for all your family's dental needs. Let us help you improve your smile and self-confidence with orthodontics!
About Braces
Braces and orthodontic appliances work by putting pressure on teeth to move them into their proper positions. Every movement is slow and deliberate, and follows the treatment plan put forth by Drs. Kearns, Serbousek or Santin.
Having braces may seem like a hassle, but once you get the hang of brushing and flossing, they'll be no problem at all. You'll also need to avoid sticky and crunchy foods when you have braces, but you can begin eating all your favorite snacks the day your braces come off.
Types of Braces
Our Grand Island dentists strive for great results and patient satisfaction by using customized appliances and aesthetic treatment options to optimize tooth movement for shorter treatment times and bigger, brighter smiles.
Types of Braces
Traditional Metal Braces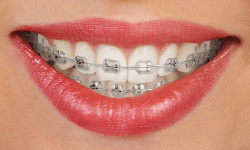 Traditional metal braces are the most common type of braces and are more comfortable today than ever before. Made of high-grade stainless steel, metal braces straighten your teeth by using metal brackets and archwires. With metal braces, you have the option of adding colored elastics (rubber bands) for a more unique and colorful smile.
---
Self-Ligating Braces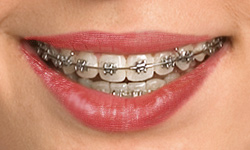 Self-ligating braces are made from the same materials as traditional braces; however, self-ligating braces do not require the use of elastics, meaning fewer appointments and less friction being placed on the tooth. Self-ligating braces come with traditional metal, ceramic, or clear brackets. They are the same size as metal braces, but they use a specialized clip in place of elastics to help the archwire guide teeth into place. The clip helps reduce the amount of pressure being placed on the tooth and requires fewer adjustments because there are no elastics to replace.
---
Clear (Ceramic) Braces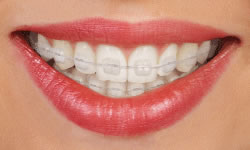 Ceramic braces are made of clear materials and are therefore less visible on your teeth than metal braces. For this reason, ceramic braces are used mainly on older teenagers and adult patients who have cosmetic concerns. While they are visually less prominent, they do require more attention to oral hygiene, as ceramic braces are larger and more brittle than their metal counterparts. For these reasons, ceramic braces tend to be used more on upper front teeth rather than on lower teeth.
---
Invisalign® Clear Aligners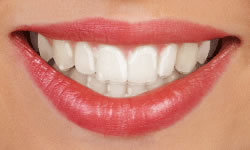 Invisalign clear aligners straighten teeth using a series of invisible, removable, and comfortable acrylic trays. Not only are the aligners invisible, they are also removable; so, you can eat and drink what you want while in treatment. Plus, this helps to make brushing and flossing less of a hassle. The aligners are comfortable and have no metal to cause mouth abrasions during treatment.
---
Gold Braces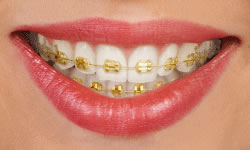 Gold braces are similar to traditional metal braces. Like traditional metal braces, gold braces are made of stainless steel; however, they are uniquely coated in gold. The gold coating may be considered a more cosmetic option than traditional metal braces. And, the cost of gold braces is surprisingly comparable to most clear braces.
---
Palatal Expander
A palatal expander "expands" (or widens) the upper jaw by putting gentle pressure on your upper molars each time an adjustment is made. This is necessary if the jaw is too narrow to accommodate all the permanent teeth. When you achieve the desired expansion, the appliance will need to be worn for several months to solidify the expansion and to prevent regression.
To learn more about braces, orthodontics, and Invisalign, schedule an appointment at our Grand Island, NE dental office!